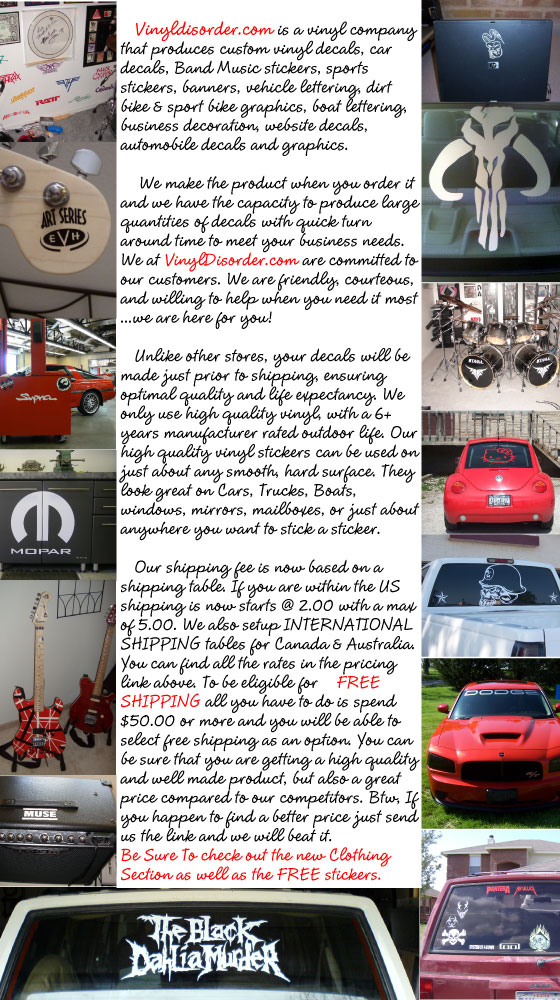 I absolutely love decorating my home! I am not great at it by any means...and I try to do it all on a budget..a strict budget, so I do a little at a time! So little that my hubby and I have been married for almost 8 yrs, we moved into our house a month later and our bedroom is still not decorated! Ah so sad I know, I want to do it but finding the time and $ isn't always the easiest and I figure its the one room no one else sees, atleast not often. Just last year I bought us some nice bedding...now I plan to paint soon (when my hubby can move the furniture for me and so on) and I LOVE wall decals, but I hate spending the $30 or more a piece on them! Which is another reason I have put it off. I actually redid our living room last summer and bought some wall decals which I love, but I hated the price of them..... so when
Vinyl Disorder
contacted me about doing a review on one of their
wall quote decals
or
family kits
I was thrilled to know I could get something for another room in our home!
I decided I would get something for baby girl's room since I had just picked out the bedding and decor for her room. SO I went browsing their site. First I was shocked at how great their prices were! I am not kidding, they were so great that I did think to myself ...." how good are these decals going to be if they cost so little". I continued to browse the site and at first I chose this
cute
little decal. Then I remembered that they also do
custom wall quotes
! That's right, you can tell them what you want and they will do their best to create it!
Since we are doing baby girl's room in Owl's I tried to come up with some creative little saying.... after some thinking I thought "Owl always love you" and then I browsed the internet for some images. This is what I sent them....
I received an email a few days later to ask what color I wanted the image to be. I went with a dark brown, then about a week later I was sent the image through email since it was a custom to see how well I liked it. I LOVED it!! Then about a week later we received the wall decal in the mail. It was a Saturday and our youngest was napping and our oldest was at the neighbors playing so the hubby and I took a few minutes to put this up.
***Ok first let me say IGNORE THE MESS!! Baby girl's room is also acting as our boys toy room still...in a 3 bedroom house we are a little cramped ;-) In the next 3 months we need to move their toys into their bedroom. (if you really care, we plan to turn our garage into living space, but we are trying to do it debt free!! We also had to buy a van, which we just did last week Debt free!! So its all very exciting, but a lot to do...so garage renovation will be happening slowly******
Hubby first flattened the image with the little
tool that came with the image.
then he peeled the image off of the backing, if you have any
wall decals you know how hard this can be.....this one
came off SO easily!!!
Then we placed it where we wanted it :)
with the little tool again he flattened it all
out on the wall
then slowly he peeled the paper away
so cute!!
I have had wall decals take me up to 40 minutes to apply
because they stick to the paper or crinkle, etc. This one
was so easy , it only took us about 10 min from start to finish.
We love it!!!!
We absolutely love this wall decal!! I will definitely be ordering more from
Vinyl Disorder
in the very near future! I encourage you to take a peek at their website, remember if you don't see something you love they will do their best to create it! One of you will win a wall decal or family kit of your own, just fill out the entry form below. I will leave this open until Wednesday June 27th. Good Luck!!
a Rafflecopter giveaway